All Stars Cricket National Launch Day
All Stars Cricket National Launch Day
All Stars Cricket has landed in Lancashire!
The Lancashire Cricket Foundation want your children to get involved in All Stars Cricket on today's national launch day.
All Stars Cricket will be delivered throughout the summer at local cricket clubs and dedicated centres across England and Wales, with the first set to get underway around the county this evening.
All Stars Cricket aims to give 5-8 year olds an unforgettable first experience of the game, in a fun, safe and inclusive environment.
Dan Pilling, Regional Manager of All Stars Cricket in the North, said, "There are already over 2,000 kids ready to have a fantastic first experience of our game through All Stars Cricket, across the 100 plus clubs delivering in Lancashire.
"With over 47,000 sign-ups nationally on launch day, we have already beaten last year's total of 37,150. Thousands of new families are being welcomed into clubs this weekend and it's going to be really exciting seeing all of the #BigMoments across social media.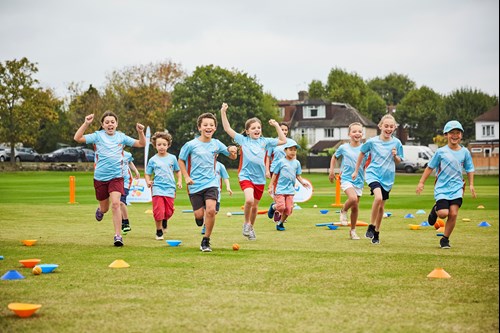 "70% of families in All Stars Cricket were brand new to the game last year, and it's a similar percentage this year, which is why the brilliant working relationship with Lancashire Cricket Club to convert these new participants into fans is so important.
"Every single All Star across Cheshire, Cumbria and Lancashire can attend the T20 fixture against Northants on the 8th July for free, and it's set to be a brilliant festival day. We're all looking forward to seeing the sea of All Stars Cricket shirts in the stands on that day and for many years to come."
Sign up to receive a cricket back-pack delivered to your door, containing a rucksack, bat, ball, water bottle, cap and a t shirt personalised to each child.
Visit www.ecb.co.uk/play/all-stars to find out more and join in the fun this summer!
Get a FREE Vitality Blast ticket!
As a thank you for signing up to All Stars Cricket, Lancashire Cricket Club have a special Vitality Blast ticket offer that is exclusive to you.
This fantastic offer will give your junior cricket fan FREE access to the Lancashire Lightning v Northants Steelbacks fixture at Emirates Old Trafford on Sunday 8 July, when you purchase an adult ticket reduced to just £5.