Castlehill High book Lord's date for National Table Cricket Finals
Castlehill High book Lord's date for National Table Cricket Finals
Castlehill High School are off to the Lord's Taverners National Finals for Table Cricket.
The children from the Stockport school qualified for the finals after coming out on top in the Lancashire Regional Finals held at the Trafford Cricket Centre at Emirates Old Trafford.
Castlehill overcame seven fellow Special Education Needs Schools from around the region and will head to Lord's for the finals in June to compete with teams from all over the UK.
Table Cricket is a disability sport for wheelchair uses and those with physical and learning disorders, providing them with an opportunity to play cricket on a table tennis table.
Players use a miniature bat and ball with sliding side panel fielders that create an arena, with fielders placed around the table.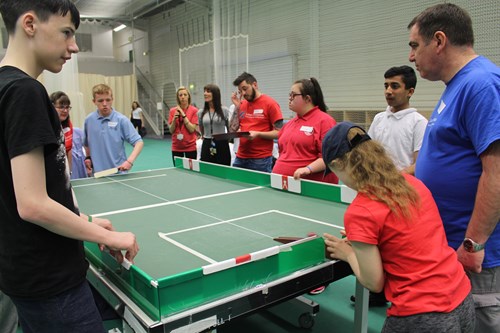 The final was tightly contested between Castlehill and Clare Mount Wirral, with the former winning by seven runs after posting a score of 240 for 4 in reply to Clare Mount's 233 for 7.
All of the matches were played in tremendous spirit between children from Melland High (Manchester), Redwood School (Rochdale), Greenbank School (Cheshire), Sandfield Park (Liverpool) and New Bridge (Oldham).
Tom Warner, Regional Development Manager for the Lord's Taverners said, "We work very closely with the Lancashire Cricket Foundation and we have built up a fantastic relationship with the Club over the past few years - who are very supportive of all of the programmes that we run.
"Table Cricket Finals Day is one of our showpiece events of the year, for one of our main charitable programmes. It would not be the success that it is without the help that we receive from all of the County Boards, and Lancashire in particular, to be able to send a team down to Lord's to represent the County.
"Not only are we running Table Cricket in conjunction with the Lancashire Cricket Foundation, we are also running our disability cricket through a programme called Super 1's and an initiative called 'Wicketz', which targets young people in areas of high deprivation all over the UK.
Rob Tipping, Disability Cricket Manager at Lancashire Cricket Foundation, said, "We are indebted to the support of the Lord's Taverners who fund our Table Cricket programme throughout Lancashire.
"Congratulations to Castlehill who are supportive of all of our initiatives and we look forward to seeing how they progress in the Finals at Lord's later this summer."