Guests enjoy lunch with Lancashire legend Clive Lloyd CBE
Guests enjoy lunch with Lancashire legend Clive Lloyd CBE
The Lancashire Cricket Foundation hosted the first 'lunch with a legend' of the season as guests enjoyed lunch and a Q&A session with Red Rose legend Clive Lloyd CBE.
The event was in support of the Foundation and took place at Emirates Old Trafford, during the lunch break, as Lancashire Cricket were due to kick off their Specsavers County Championship 2018 campaign against Nottinghamshire.
The West Indian, who played for Lancashire for 18 years and captained the Club from 1981-83 and again in 1986, was as well received as ever by the 110 guests in attendance.
Guests enjoyed their lunch and a video showcasing Lloyd's greatest moments on the international stage, before the Q&A, hosted by MC Peter Young, got underway.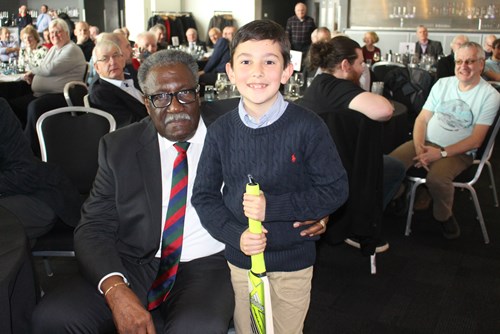 There were plenty of hot topics, from his time captaining both the Red Rose and his native West Indies, to his thoughts on the new look Emirates Old Trafford.
The lunch came to a close with Lloyd presenting the latest winner of the Lancashire Line, Andrew Boniface, with a cheque for £2000, before drawing the raffle prize winners which included a signed Clive Lloyd picture frame and a signed England Cricket bat.
Sandy Mitchell, Head of Community Growth for the Lancashire Cricket Foundation, said, "It was fantastic to have a Lancashire legend like Clive Lloyd come to our first lunch of the season.
"It was great to hear Clive recall his fondest moments at Lancashire and it's clear to see this County still means a lot to him.
"Everybody at Lancashire Cricket Foundation is extremely grateful to Clive, and all of the guests who attended, for making it such a memorable afternoon."