Inaugural Women's Cricket Conference a success
Inaugural Women's Cricket Conference a success
The first Women's Cricket Conference was held at Emirates Old Trafford on Saturday with 40 guests in attendance from women's cricket around the county.
The guests kicked off their day with a Q&A with Lancashire Thunder and England's Alex Hartley, Kate Cross and Sophie Ecclestone.
A series of workshops relating to different aspects of the women's game took place throughout the day, with guests given the choice to tailor their day to best suit their own needs.
Hartley then led a fielding masterclass in the Trafford Cricket Centre, offering coaching tips and showing first-hand how to improve on throwing technique and taking diving catches.
She said, "An event such as this is definitely a big step for women's cricket in the county. I was speaking to a lady whose club does not have a women's set-up, but she wants to set something up and she wants to get some ideas and advice on how to do it.
"I have also spoken to one guy who has already got a female team and he is looking for some help to try and make the transition into hard ball cricket.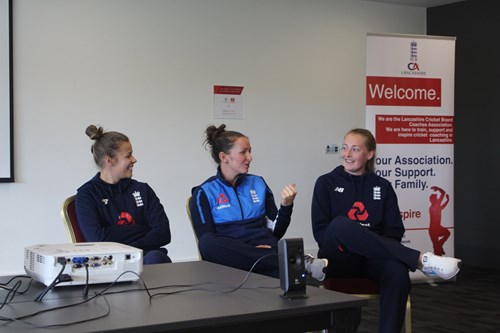 "I think it's a fantastic idea and I hope that it gives a lot of people, and a lot of clubs, some support and ideas going forward.
"For girls to be able to come down, train and use the facilities here is a fantastic opportunity and the more women that we can get involved in cricket, then the more normal it will become to train at places like Emirates Old Trafford."
The conference was led by Lancashire Women and Girls Manager, Jen Barden, who added, "We were tasked by the ECB to run a training day for both females and males who are involved in the women's game.
"We decided to offer a variety of workshops which would appeal to multiple target audiences including Women's Soft Ball Festivals, right through to the talent end of the game. There were also opportunities to do some strength and conditioning and a fielding session with the England girls.
"It was brilliant to have the England girls join us, we wanted to have role models here, who are able to give real life experiences of coming through girls sections at clubs. They also demonstrate that the pathway is there for girls that play or want to get involved in cricket.
"The Women's Cricket Conference is something that we would love to grow in the future. I think if we can give people a good experience, then hopefully they can take that message back to their club and we can make it bigger and better in years to come."