Lancashire Cricket Foundation shows support to Cricket Development Groups
Lancashire Cricket Foundation shows support to Cricket Development Groups
The Lancashire Cricket Foundation was delighted to welcome club cricket representatives from around the County to lunch in The Point at Emirates Old Trafford.
Lancashire's Director of Cricket, Paul Allott welcomed the Cricket Development Groups to Emirates Old Trafford alongside Head of Cricket Business Warren Hegg and Head of Cricket Relationships Clinton Perren who were on hand to offer support and advice from the Club ahead of the 2018 club season, starting later this week around the county.
Former England and Lancashire player and now Sky Sports Commentator David Lloyd was a special guest of the Lancashire Cricket Foundation for this event and mingled with the volunteers over lunch.
Volunteers from Cricket Development Groups (CDGs) gathered during Day One of the Specsavers County Championship match between Lancashire and Nottinghamshire.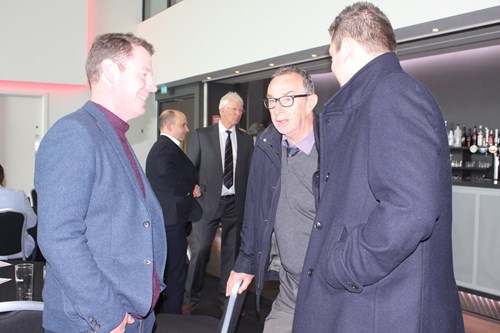 CDGs carry the remit of improving the standard of cricket within the Borough by producing and co-ordinating a Borough Cricket Development Plan and by sharing good practice, resources and ideas.
They also play a vital role in communicating both community and volunteering initiatives, as well as supporting with child welfare officer training and club mark advice.
The event was well attended by CDGs, whose roles at their local club's include acting as representatives, junior team managers, coaches and groundsmen.
Head of Cricket Relationships, Clinton Perren, said, "The Cricket Development Groups of Lancashire play a vital role in developing young players and improving the standard of cricket throughout their respective districts.
"To be able to show our appreciation for their efforts and invite them along to Emirates Old Trafford, is what we hope can be the beginning of stronger relationships moving forward."