Liam Livingstone and Alex Davies launch Super 1s programme
Liam Livingstone and Alex Davies launch Super 1s programme
Lancashire Cricket Club Captain Liam Livingstone and wicket-keeper batsman Alex Davies delighted children from New Bridge School in Oldham on Wednesday afternoon, when the pair joined in with the formal launch of the Greater Manchester Super 1s disability programme.
Super 1s is a Lord's Taverners programme designed to give cricketing opportunities, both coaching and competitive, to young disabled people aged 12 to 25 years old. The programme aims to increase levels of confidence, communication, leadership and independence for disabled young people.
The Lancashire Cricket Foundation will be responsible for delivering the scheme across community hubs in Greater Manchester and has received over £100,000 in funding from the Lord's Taverners. Manchester joins Birmingham in the expansion of the programme, following its huge success in London.
Liam Livingstone said, "It's a pleasure to be asked to help with the launch of the Super 1s programme. It's great to see children having fun and getting the opportunity to participate in something that we love to do.
"Cricket is huge, particularly here in Manchester and a programme like Super 1s proves that anybody can play a form of the game, in some capacity. It's great to come along and see the boys knocking the ball around and enjoying themselves."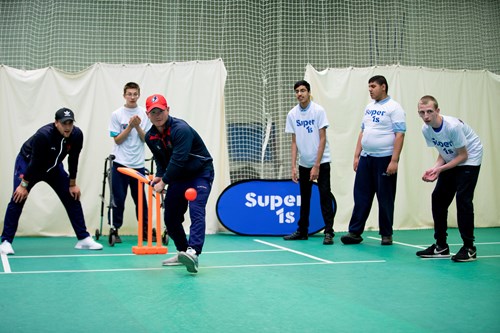 The programme also has a competitive element and allows children to compete against other hubs, with the inaugural Lancashire competition due to take place at Emirates Old Trafford in November.
Alex Davies added, "Myself and Liam were delighted to get involved with the launch of the Super 1s, it's nice to see such a mixture of abilities coming together to have fun playing the game.
"Programmes like this are really important to the area, it gives children that are slightly less fortunate the chance to work as a team and build friendships and networks, all through the game of cricket."
"Cricket has given me the chance to travel the world with my friends, hopefully these lads can keep playing the sport and disability cricket can continue to grow."   
Rob Tipping, Disability Cricket Manager for the Lancashire Cricket Foundation commented, "Super 1s is an exciting initiative and we are pleased to be involved.
"The appointment of a full time development officer allows the Lancashire Cricket Foundation to increase our offers available to young people with a disability.
"The programme has started successfully and has already seen players from Super 1s represent the Red Rose."
For more information on the project please contact Joel Harris, on jharris@lancashirecricket.co.uk or 07506 030 533.