Over 200 club Chairman enjoy day at Emirates Old Trafford
Over 200 recreational cricket club Chairman were invited to Emirates Old Trafford earlier this week for Lancashire's Royal London One-Day Cup clash against Yorkshire.
Chairmen from clubs around the county watched the game from The Point balcony, with a hot buffet served at the interval where they had the opportunity to speak to Lancashire Cricket Foundation employees and officials, fellow club Chairmen and former Lancashire players.
At the interval, Lancashire's Director of Cricket, Paul Allott, and the Club's Sales and Marketing Director, Justin Hopwood, spoke to the club Chairmen about the vision for Lancashire Cricket and the importance that cricket clubs throughout the county play from an elite and participation perspective.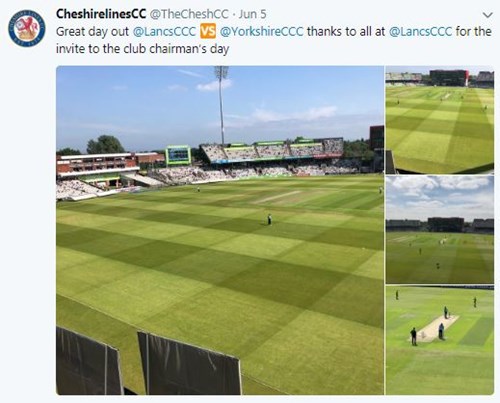 Head of Cricket Relationships, Clinton Perren, and Head of Cricket Business, Warren Hegg, were both present as well as the Lancashire Cricket Foundation's Club and Community Cricket Managers, Bobby Denning, Paul Bryson, James Cutt and Ian Seddon, who were there to answer any questions club Chairmen had.
Former Red Rose players David Lloyd, Jack Simmons, John Abrahams and Neil Fairbrother also attended and mingled with guests throughout the day.
Lancashire's Director of Cricket, Paul Allott, said, "'It was really fantastic to meet and see over 200 Chairmen enjoy a marvellous days Cricket at Emirates Old Trafford this week.
"All the League clubs in the county and indeed in the North West, play a vitally important role in encouraging participation in Cricket at all levels, which provides Lancashire Cricket with a solid and functional base from which the next generations of elite First Class and International cricketers will emerge. A strong Club and League structure means a strong Lancashire team.
"The majority of clubs run their own junior sections for both boys and girls, supplemented in many cases by the All Stars Cricket, the ECB's national initiative to promote participation at this level. Lancashire Cricket is delighted to promote and encourage all junior cricket, by helping Clubs establish and maintain their own junior sections, and is enthused to see the game thriving at this level.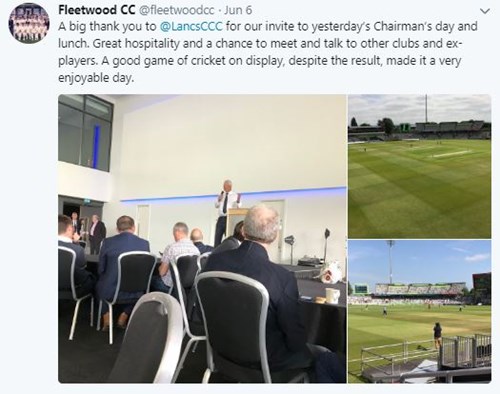 "It is vital that Lancashire Cricket Club and the league clubs create and sustain a partnership which will continue to promote the game and carry on producing the talent that will see cricket thrive at club level. From there I would like to see a natural progression to the top flight and I wonder which club will have the honour of saying we produced the next Jimmy Anderson?".
Earlier in the summer, the Lancashire Cricket Foundation invited volunteers from Cricket Development Groups (CDGs) for Day One of the Specsavers County Championship match between Lancashire and Nottinghamshire at Emirates Old Trafford. CDGs carry the remit of improving the standard of cricket within the Borough by producing and coordinating a Borough Cricket Development Plan and by sharing good practice, resources and ideas, whilst they also play a vital role in communicating both community and volunteering initiatives, as well as supporting with child welfare officer training and club mark advice. The event was well attended by CDGs, whose roles at their local club's include acting as representatives, junior team managers, coaches and groundsmen.