Paul Allott and Warren Hegg open nets at Newton le Willows CC
Paul Allott and Warren Hegg open nets at Newton le Willows CC
Red Rose legends, Paul Allott and Warren Hegg were on hand at Newton le Willows Cricket Club to cut the red tape and officially open the Club's new outdoor net facility.
The Former Lancashire and England duo continue to serve the County - Allott as Director of Cricket and Hegg as Head of Cricket Business - opened the three-bay practice facility in time for the first outdoor junior training session of the 2018 season.
Newton le Willows, who play in the Liverpool and District Cricket Competition, host seven junior sides, alongside four senior teams, and with player membership continuing to grow, the need for expansion was vital for the St Helens based outfit.
The construction of the new nets at the Crow Lane complex was only possible following a grant from the England & Wales Cricket Board, supported by the Lancashire Cricket Board, now the Lancashire Cricket Foundation.
Allott and Hegg gave a speech to the juniors in attendance before cutting the red tape, to signal the donning of gloves and pads and within minutes training had begun under the watch of the ex-Lancashire pair.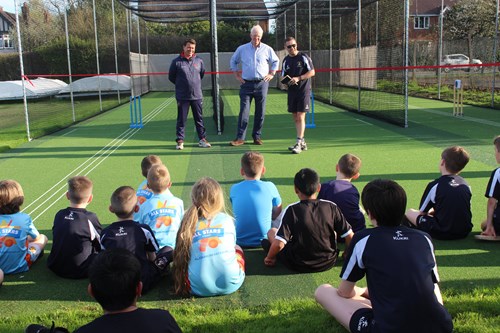 Chris Chambers, First Team Captain at Newton le Willows said, "The nets will make a huge difference, allowing the juniors the opportunity to all train together and further develop their cricket.
"Many thanks to the ECB for their contribution and to the Lancashire Cricket Board for their support throughout the application process.
"We would also like to thank our sponsors, Peter Clay of Maxilead Metals and Geoff Goodwin of Go Goodwins Coaches, who continually support both the Club and our junior sides.
"These improved facilities will benefit both Club and County, as the club are set to host a Lancashire Women's First Team match this summer, as well as Lancashire's Under-14 and Under-15 boys.
"Over the last five years the Club has strived to improve its facilities, putting money and resources back into the ground. We now have seven County players within our junior section and this can only help to aid their development."
Take a look at a picture gallery from the evening: