Summer of Women's Soft Ball Cricket underway
Summer of Women's Soft Ball Cricket underway
The first Women's Soft Ball Cricket Festival of the summer got underway in glorious Lancashire sunshine over the bank holiday weekend.
The festival, held at Shaw Cricket Club and supported by the Lancashire Cricket Foundation, was the first of 40 to be held at clubs across the county in 2018.
Seven teams took part, with Shaw Ladies and Girlfriends coming out on top in the tournament, during a fun filled day with music, a BBQ, refreshments and a party atmosphere.
Shaw Ladies and Girlfriends will now go forward to take part in the counties winners' tournament later in the year.
Vicky Griffin, who played a key role in organising the festival on behalf of the Club, was delighted to see such a big turn out and hopes that the festival can be a catalyst towards the start of a women's team at Shaw.
She said, "Myself and two of the other mums from the Under 15 cricket team came together to organise the festival alongside the Lancashire Cricket Foundation.
"We wanted to see women come here, have lots of fun and build friendships.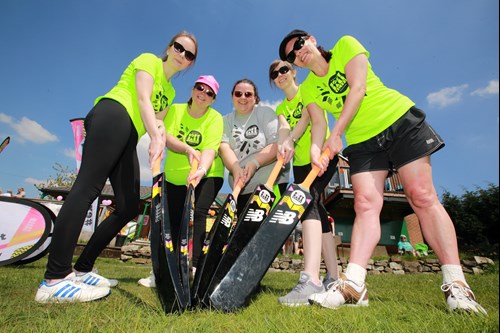 "We have chatted about getting a women's set-up. We held a festival here at Shaw last season but it was really late in the year.
"This year it was decided that we would hold one early in the year and on a Sunday, we've been able to get more people involved, more teams involved and hopefully this can lead to getting a women's cricket team going.
"The turnout has been amazing with seven teams and 40-odd women and we couldn't have asked for better weather either!
"Julie and the Lancashire Cricket Foundation have been amazing, she's been with us every step of the way and she was here at the crack of dawn to help us to get set up."
Julie Durrant is Women's Soft Ball Cricket Co-Ordinator for the Lancashire Cricket Foundation and she is hoping to see some of the women again at festivals later this summer.
She added, "The women have been fantastic and Shaw Cricket Club have been amazing. Thank you to Catherine Matley, Vicky Griffin and Jane Pilling who have been instrumental in pulling the event together on behalf of the cricket club.
"A busy summer of Women's Soft Ball Cricket is now underway, it would be great if we could see a couple of the teams here today playing in more festivals over the course of the summer."
View full schedule of festivals