The sun shines for Women's Soft Ball Cricket Festival at Old Xavs
The sun shines for Women's Soft Ball Cricket Festival at Old Xavs
History was made over the Bank Holiday Weekend, when hundreds of women and spectators gathered for the Women's Softball Cricket Festival, hosted by the Old Xaverians Cricket Club in partnership with Lancashire Cricket Foundation.
The Festival was the first to be held in the city of Liverpool and marks a new chapter for the club in its plans to become a centre of excellence for female cricket.
There was a free glass of prosecco on arrival for all the women, BBQ and music - plus a free t-shirt for all who took part!
Speaking after the event Paul Bates, spokesperson at Old Xaverians Cricket Club said, "It was great to see so many women turn up and take part. 
"Five teams entered including a team of Indian ladies from Manchester. The enjoyment by the players was immense, as was the appreciation by spectators.
"Many of the ladies want to continue and the club in response is putting on weekly sessions to sustain the enthusiasm.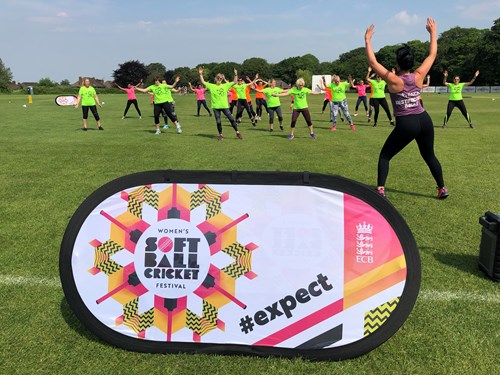 "Everyone had a great time and cricket was definitely the winner. We are hoping this event will now see more women come to the club and take part in the great game of cricket."
Julie Durrant, Soft Ball Cricket Co-Ordinator for the Lancashire Cricket Foundation, said, "The festival was aimed at encouraging new women into cricket and their friends to come along to have a great first experience of the game.
"The games were six-a-side and the rules designed to make the games fun, fast and easy to pick up!  Teams are made up of women who have never played cricket before and are encouraged to make up team names. 
"I would also like to thank Heatone Fitness for delivering a superb warm up to kick off the event.
"This year's winner were St Pauli's and this team will now go forward to take part in the counties winners' tournament later in the year."
For further information about Women's Soft Ball Festivals across the county visit Lancashire Cricket Foundation website at http://www.lancashirecricketfoundation.co.uk  or contact Julie Durrant on 07507 057692 or via email jdurrant@lancashirecricket.co.uk.