Visually Impaired Derby in Lancashire
Visually Impaired Derby in Lancashire
Sunday 3rd of June was an historic day for Visually Impaired Cricket in Lancashire as two Lancashire Cricket Foundation clubs competed against each other. Lancashire is the only county in the country who will host inter county matches this season.
The development team of the Lancashire Lions took on Wavertree Cricket Club's VI section, in the Blind Cricket England and Wales (BCEW) North & West Regional League, in the first ever fixture between the clubs.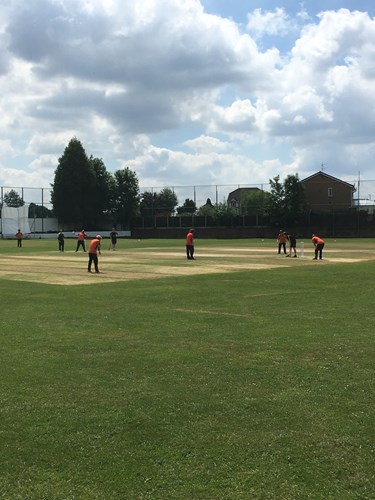 The match took place at Droylsden Cricket Club in Manchester, and on a sun kissed afternoon, Wavertree won the toss and had no hesitation in batting first. Two quick wickets followed as Wavertree fell to 11/2 which brought Paul Fisher to the crease. Although wickets continued to fall at regular intervals, he continued to accumulate runs and the partnership of 51 with Mike Harrison was a match high. Paul retired after reaching 50, as competition rules state, and Wavertree used their maximum amount of overs (28) to reach 154/8. Rashid Khan was the pick of the bowlers, taking 3/20, and young Freya Gavin and 'total' Helen Lawson impressed in the field, Helen taking 2 catches.
In reply, the Lancashire Lions lost an early wicket, but Amelia Robertson played a composed innings for her 34 runs. Few batters stayed with her long enough to really affect the score, and Wavertree bowled tightly throughout the middle overs. With overs slipping away from the Lancashire Lions they went in search of a winning draw rather than an outright win. 10 was needed from the last over, Rashid Khan was on strike, Mike Harrison the bowler. Three 2s followed, then a single, then a wicket and then a wide which meant that with the last Lions batter at the crease 4 results were still possible from the very last ball:

• 2 runs or more = Lancashire Lions winning draw
• 1 run = a tie as both sides finish on a run rate of 5.5 runs an over
• Dot ball = Wavertree winning draw
• Wicket = Outright win for Wavertree
Although the youngest player, Freya Gavin had the coolest head on the pitch, and played a solid forward defence, which was celebrated by handshakes all round.
In just their second game at regional level, Wavertree recorded a winning draw against the reigning champions. It was the first time in 2 years that the Lancashire Lions had not won in the Regional League. The result, important whilst playing, seemed to be quickly forgotten as both teams enjoyed the social side of game at the close and long forged friendships were rekindled.
The match was a terrific advert for VI cricket in England and Wales, but more importantly, it was a great spectacle to highlight the hard work and commitment of two clubs trying to make a difference for the VI communities in their areas of the county.