Kwik Cricket
The England & Wales Cricket Board are delighted to be partnering with the International Cricket Council on the ICC Cricket World Cup 2019. A celebration of the World's 10 greatest cricket teams, who will be playing 48 matches across 10 venues in England and Wales from May to July 2019, culminating with the final at Lord's.
The ambition of the ICC Cricket World Cup is to inspire 1 million kids to pick up a bat and ball in 2019. The ECB's contribution to the 1m target will be to host a unique and exciting Kwik Cricket tournament in association with ICC Cricket World Cup Schools, with over 200,000 year 4 to 6 girls and boys taking part.
The event will start in April 2019 and run through until July, with a combination of District and County finals across all 39 Counties in England & Wales.
This is your school's opportunity to be part of this once-in-a-lifetime opportunity for your children and by entering your school into the Kwik Cricket tournament in 2019 you will be eligible for exclusive Cricket World Cup money can't buy offers.
What is Kwik Cricket?
Kwik Cricket is a fully inclusive game where the emphasis is on participation and enjoyment. It is specifically tailored for children up to the age of 11.
Each Kwik Cricket team has eight players (both girls and boys) and bats for eight overs. Games are played with a plastic bat and ball. Although teams are generally eight a side, there are numerous ways in which different-sized groups of children can play Kwik Cricket – any number can play in a match, from two to 32. You simply adapt the game to suit the number of children involved and the available playing time.
Rules and scoring
Download the Kwik Cricket rules (PDF) for further details on how Kwik Cricket matches and competitions are structured and run. You can also use our downloadable scorecard (PDF) to keep track of your Kwik Cricket match.
The competition
The main Kwik Cricket competition is open to state primary and middle schools throughout England and Wales. Independent schools can enter their area competition at the discretion of their County Cricket Board. There are school competitions for Year 6, Year 5 and Year 4.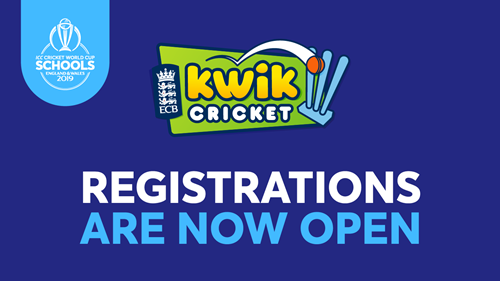 For further Information about Kwik Cricket, please contact - Dave Reddy – dreddy@lancashirecricket.co.uk