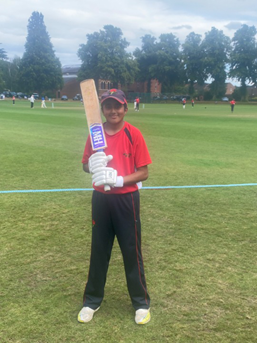 The Lancashire Cricket Foundation Development centres in 2021 in conjunction with inter league cricket and a wider scouting network has provided further opportunities for boys and girls to make the initial step onto the Lancashire Pathway.
Referrals from Community Development Officers from the Level 5 course and performances in the inter league supplemented by two further assessment phases has resulted in a robust selection process for County Age Group squads.
The inter league fixtures provided the reintroduction of Thomas Yorke-Robinson of Lowerhouse CC to the Under 15 squad in 2022 after scoring heavily in inter league fixtures. Thomas is currently playing for Lancashire Under 16s in 2022.
James Stirling of Sefton Park CC was added to the Lancashire U14 squad after his performances in inter league and also remains in the Under 15s in 2022.
In 2022, a Level 6 course was added through the cricket development centre at Emirates Old Trafford led by County Age Group coaches, which was another opportunity for boys missing out on county selection following autumn assessments and referrals from LCF staff and the wider scouting network. Both Gabe Smith of Liverpool CC and Max Birtwistle of Greenmount CC were added to the Under 14s squad for the season.
 Perhaps the major success story so far has been the journey of Adam Hussain from Rishton CC and Woodhouse Grove School, Bradford who was omitted after a disappointing Under 12 season. However, after attending the Level 6 and discussion with his head of cricket at the school by a pathway coach, Adam worked extremely hard during the winter which resulted in excellent club and school performances.
Adam was added to the Under 13 squad and quickly transferred his form into county fixtures and has currently scored four fifties since his return to the squad.
His father Arshad stated that Adam had been made to realise that he needed to work at his game to be reintroduced to the squad and the experience of being initially omitted in combination with the invitation to the Level 6 course was the determining factors to his subsequent success.