The annual community-led cricket tournament held in Manchester proved to be a resounding success, serving as a testament to the unifying power of cricket in a diverse and vibrant city. This event brought together teams representing various cultural backgrounds, including the Bangladeshi, Pakistani, English, West Indian, Afghan, and Indian communities. Beyond cricket, it showcased the rich tapestry of Manchester's multicultural identity.
The tournament extended its reach to the younger generation by featuring a youth game, with children from the Manchester Chance to Shine Street program displaying their enthusiasm and talent. Additionally, the inclusion of a ladies' match emphasized the importance of gender inclusivity in the world of cricket.
The presence of Lord Mayor Yasmin Dar at the awards ceremony highlighted the event's significance and commitment to community cohesion. Under clear skies, more than 800 people gathered to enjoy the festivities. The day was packed with activities, including inflatable games, a talented balloon artist, henna artists, face painters, and engaging cricket sessions for children. The diverse food stalls offered a tantalizing array of Caribbean and Indian cuisine.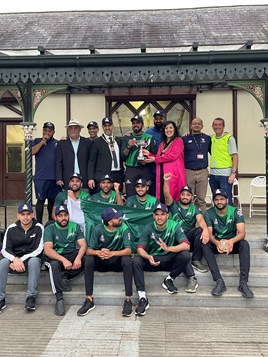 The joyful rhythm of a Dhol band reverberated through the venue, adding to the festive atmosphere. Participants from all walks of life, representing different age groups and backgrounds, came together, united by their love for cricket and a shared sense of community.
Beyond the cricket matches and festivities, the event also served a noble cause. An Answer Cancer information stall promoted free cancer screenings, emphasizing the importance of health awareness within the community. Furthermore, the sweet shop offered a delightful treat for those with a sweet tooth.
The spirit of generosity was evident as the event raised over £400, which was donated to the Lancashire Cricket Foundation to support grassroots cricket programs, furthering the game's accessibility and inclusivity.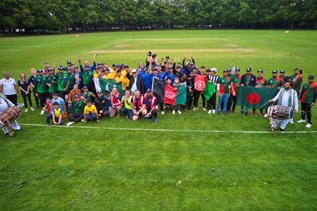 The success of the day was not just about cricket but about the connections made and the sense of community that flourished. The event attracted a dedicated team of 20 volunteers who contributed their time and energy to make it all possible. Six female volunteers joined the ranks, and connections were established with three different organizations, promising future collaborations.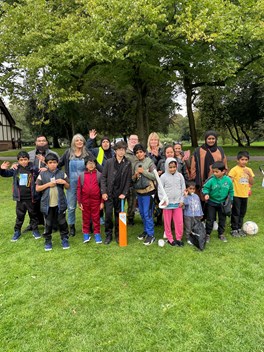 In the end, this annual cricket tournament was a resounding celebration of community cohesion, friendship, and understanding. It showcased the diversity of Manchester while emphasizing that, in the end, we are all united through cricket—a game that truly transcends boundaries and brings people together. The positive feedback received from participants of all ages, backgrounds, and genders underscored the event's profound impact on the community.