The Volunteer It Yourself(VIY) project is about helping young people learn trade skills whilst helping to renovate vital community facilities.
VIY combines DIY and volunteering by challenging young people aged 14-24 to help repair and refurbish community places and spaces, whilst learning vocational trade skills on the job.
VIY learners are mentored by professional tradespeople and can work towards and gain Entry Level City & Guilds trade skills accreditations. We work with young people who are not in education, employment or training (NEET) or at risk of disengagement/exclusion from mainstream education and training.
The VIY team have completed 700+ projects across the UK with 13,000+ young people aged 14-24 volunteering and benefitting, 100% of projects located in the 20% most deprived areas nationally in 2021-22.
Construction is something I want to go into!
Meet Kyle, Kyle is a volunteer with the VIY team and has completed five projects over a period of  four months and gained himself three City & Guilds accreditations.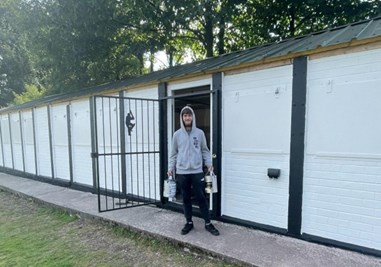 Kyle said: "I've really enjoyed my time at VIY, the project has come out really well and looks so much different to how it started. I'm really looking forward to the next project and gaining my 3rd qualification with VIY in Carpentry. Construction is something i want to go into now after trying warehouse work and realising it wasn't for me."