Core Cities programme update
South Asian communities engaged across Manchester  
The Lancashire Cricket Foundation is delighted with the progress made so far in engaging with South Asian Communities in Manchester through its Core Cities programme.

Funded by the England and Wales Cricket Board, the programme is now well underway with specific and targeted programmes having a positive impact.

The principle aim is to inspire South Asian communities to connect with cricket – both as players, volunteers and spectators, in line with the ECB National Strategy, Cricket Unleashed - More Play, Great Teams and Inspired Fans.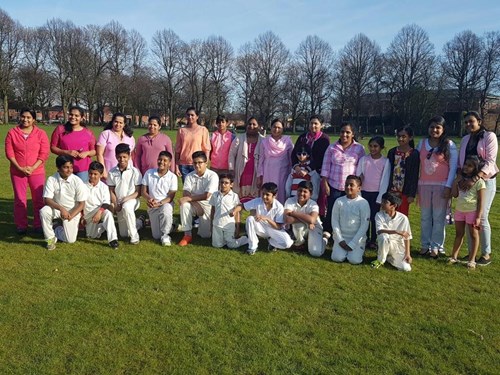 The Advisory Group, established to work alongside the Foundation, is chaired by Bobby Denning Club and Community Manager for the Lancashire Cricket Foundation, who is overseeing the programme, alongside Rehaan Rather, the Programme Activator. The Group continues to make progress in developing and adding value to the action plan.

The Group is made up of key community contacts including the Pakistan Consulate, Indian Association of Manchester, Manchester City Council, GreaterSport and local clubs. The Group is keen to see more communities represented as the programme evolves.

Bobby Denning, commented: "It's an exciting time to be working with our diverse communities, particularly now that we are seeing delivery of the plan. We will soon be into the planning phase for year two.

"Talented players is also a focus for us, complementing the recreational and community element of the plan.

"We are looking forward to building on the established programmes and relationships and creating new ones. The Advisory Group is key to help us achieve the aims of the action plan.

"We also have a direct involvement in the Breaking Boundaries programme in Newton Heath, Manchester, which focuses on community cohesion through cricket.

"The timing of the programme has been perfect, tying nicely into the ICC Cricket World Cup here at Emirates Old Trafford this summer, featuring England, India, Pakistan and Afghanistan. We are currently planning how our programme will tie into ICC Cricket World Cup activation programmes in the area."


Programme achievements so far
• Coach Development – 18 candidates to attend Level 2 Coaching Qualification (April 2019)

• Produced 13 qualified umpires from the Greater Manchester Amateur Cricket League

• Indoor Cricket League – 12 Teams participating

• Women and girls between the ages of 16-25 being identified to receive a Cricket Development Training programme

• Eight candidates from Lancashire Cricket Foundation, Manchester City Council and GreaterSport attended Cultural and Religious Awareness Training

• Connected with Manchester Last Man Stands players

• Connected with "casual" tape ball parks players

• 13 non-turf pitches strategically located in City Council parks, based on local need and current usage

• Engaged with over 130 unique participants from Manchester via indoor league
• Worked with 90 children from the mosque and organised events and engaged with over 100 people from the Indian community
• Worked with nine secondary schools in Manchester via an after-school club which links into the secondary school indoor league
• Engaged 35 ladies at the Softball Cricket Festival on 10 February, with a view to delivering professional cricket coaching sessions and identifying ladies who wish to become cricket coaches

For further information on the programme and delivery proposals, please contact Bobby Denning at bdenning@lancashirecricket.co.uk or 07764 922840