Lancashire and Yorkshire unite for community cricket
The Wicketz programme, a national community cricket initiative led by the Lord's Taverners, brought 70 children aged 8-12 from Lancashire and Yorkshire together for the first time in a 'Unity of the Roses' event, held at the Karmand Community Centre in Bradford. 
The Lancashire Cricket Foundation and Yorkshire Cricket Foundation's were behind the landmark day with teams from Salford, Manchester and Bradford uniting to celebrate all that is good about playing cricket together. 
A series of round robin fixtures brought excitement throughout the afternoon and children took time out from playing to go beyond the boundary and explore how cricket and Wicketz has changed their lives, through a number of workshops - including writing a statement tapestry.
The children were also delighted by a visit from former Red Rose and White Rose fast bowler, Ajmal Shahzad, who shared coaching tips and took part in a question and answer session.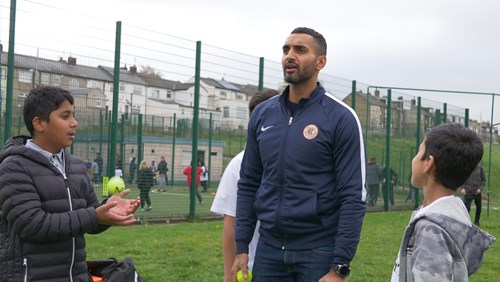 Howard Shore, Lancashire Cricket Foundation's Senior Project Activtator for the Wicketz programme said, "The young people that we took over had a fantastic day. They were made to feel very welcome by staff, volunteers and participants at the Karmand Centre and loved meeting Ajmal Shahzad. 
"There was some excellent play in the matches and the statements that young people wrote during the workshops showed how much they value the Wicketz programme. We look forward to hosting the return event in Lancashire next year."
Ben Fraser, who is the Yorkshire Cricket Foundation's Wicketz Development Officer, added, "The spirit of the event came together with a strong show of unity throughout. The event was made possible by eight young volunteers from the local Barkerend community which represented the ethos of 'Unity of the Roses' – to come together and make something possible for other people.
"Winning wasn't the sole importance on the day - it was also about the enjoyment of playing and celebrating the reasons why participants keep coming back to Wicketz."