Lancashire Cricket visits Dharavi Cricket Academy
U13s visit Dharavi Cricket Academy during tour to Mumbai
As part of their recent tour to Mumbai, Lancashire Cricket U13s paid a visit to the Dharavi Cricket Academy to see first hand some of the work being done by Lancashire Cricket Foundation partners, Project Front Foot.
Lancashire Cricket non-executive Director, James Sheridan, who was present on the tour, wrote the following account from their visit...
We had heard a lot about Dharavi and its Cricket Academy, both from Project Front Foot founder Vic Mills and also via the partnership PFF has enjoyed with Lancashire Cricket Foundation over the last four years or so. During that time, the Foundation has supported the development of the Academy at Dharavi with both cash and kit donations.
During our recent pre-season tour of Mumbai, we visited both Dharavi and its Cricket Academy ourselves and this enabled us to put into context much of what we had been told before our visit and to see the importance that cricket has in the lives of the children who attend the Academy.
Dharavi is both amazing and, to the western visitor, distressing in equal measure. It is reputed to be the second largest slum in Asia. It houses one million people in one square mile. The housing density is like nothing I had ever seen before anywhere else in the world. It's a slum, meaning it was built unlawfully and that, historically, the residents and businesses within the slum could have been ordered to leave at any time. But things have moved on and the Indian Government has passed laws to make the slum lawful, so at least the risk of forced evictions has gone away now.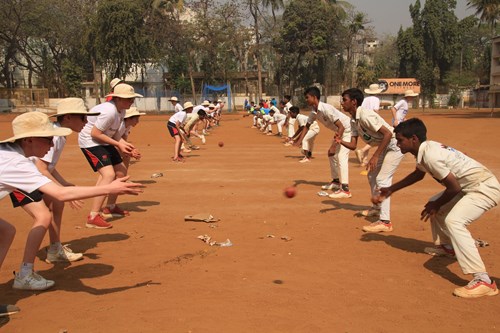 Not a single person we came across during our visits wanted – or needed - our pity. Quite the opposite: they are fiercely proud of their "city within a city". Hindus, Muslims, Parsees, Jains and many other religions live together side by side. Industries such as recycling, leather production and pottery produce around USD700m per year of revenues. Dharavi occupies prime Mumbai real estate – not bad considering that Mumbai has some of the most expensive real estate in the world. It's dirty, fast-paced, noisy, ugly, maze-like, polluted, rat infested…but despite all of this it is an incredible place.
Equally amazing were the 17 young cricketers we met at the Dharavi Cricket Academy when the 16 Lancashire U13 tourists, along with their coaches and the British Deputy High Commissioner of Mumbai, met up with them for a coaching session.
The pitch was pure dirt – not a blade of grass in sight. But that does not matter to these cricket-mad Dharavi kids. They love their cricket, and they are good at it. Head Coach Dave Leighton led a high impact fielding session for an hour in the dirt and searing heat. All 33 boys took it deadly seriously and pushed each other to raise their standards of catching, ground work, running and throwing. One of the Lancashire wicket keepers was heard to say "they throw hard" – and they did. The Dharavi boys threw themselves around as if they were diving on the boundary to save a four in an IPL game for Mumbai Indians.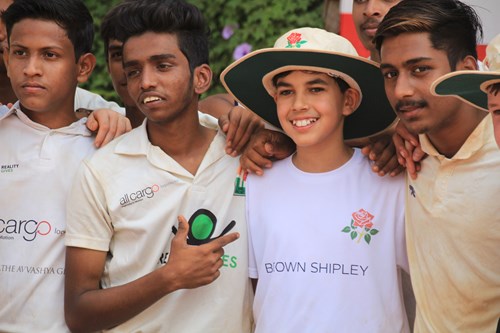 Once the session was done, the boys chatted like long lost friends. Lancashire boys handed out kit to their new friends, swapped stories of England and India players they have seen on TV (Jack's gingery-blonde hair was met with cries of "Ben Stokes" and Ben, not for the first time on the trip, was greeted with shouts of "Sam Curran"), photos were taken and the boys joked around – just as 12 and 13 year olds should.
In a little under two hours at the Academy, we had met some incredible young men. In European terms, they have nothing – but their smiles, commitment and love of cricket suggested that they felt they had everything. They live where they live, like most other children in the world, because they were born into it. For the Lancashire boys and their coaches, the fun session challenged them to think about how fortunate they are – but it also made them realise how a shared love of cricket, a shared commitment to improve their skills as cricketers and a mutual respect between boys from completely different worlds actually meant that the Lancashire and Dharavi boys have so much in common.
Lancashire Cricket will continue to support the efforts of Project Front Foot and Dharavi Cricket Academy – and we will visit the Dharavi kids at their Cricket Academy again.
You can find out more about the tour and view all of the content, by visiting: lancashirecricket.co.uk/u13smumbaitour/