Redwood School and William Howard School book places in Lord's Final
Lord's Taverners National Table Cricket Finals
Pupils at Redwood School will be representing Lancashire at Lord's on June 7 at the Lord's Taverners National Table Cricket Finals. And they will be joined in the finals by William Howard School, who are representing Cumbria.
The Rochdale-based and Brampton-based schools are heading to the Home of Cricket to battle it out against ten other schools as they look to be crowned champions of the national competition organised by the UK's leading youth cricket and disability sports charity, the Lord's Taverners.
And thanks to the help of the People's Postcode Lottery and Ford, who support the competition, the Lancashire and Cumbria schools will be hoping to lift a trophy at Lord's in this World Cup summer.
Redwood School teacher, Adele Navesey-Hall, said: "The Redwood team have been involved in the regional competitions over a number of years and are so proud to have finally got to the national final at Lord's. The team have thoroughly enjoyed the regional matches and celebration events which are very well organised and supported by both Lancashire and the Lord's Taverners. The team spirit is well-established, and we hope to win the national final, but if not it has been an amazing journey so far and we are proud to be a part of it."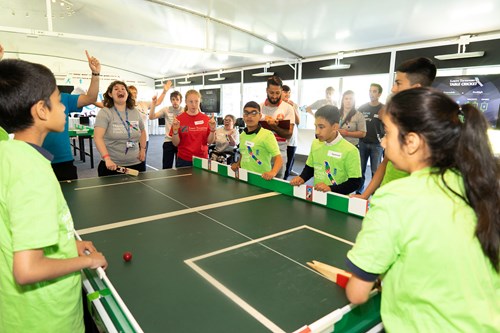 Tracey Croucher, Learning Support Assistant at William Howard School, near Carlisle, said: "The students were all thrilled when they realised that they had won at the North East regionals and had earned themselves a place in the National Final at Lord's. They haven't stopped talking about it since.
"For all of the students involved, playing table cricket has helped them to socialise with other students and learn to work together as a team. It has helped them to gain self-confidence and provided them with the opportunity to succeed in sport."
The Lord's Taverners table cricket competition, now in its 21st year and working with 39 county cricket boards across the UK, saw more than 450 schools took part in the 10 regional heats to qualify for the finals.
Played on a table tennis table with side panels and sliding fielders, a ball launcher, weighted plastic ball and wooden bat, table cricket enables young people with severe physical and learning disabilities to enjoy cricket and represent their school on a competitive basis.
The game not only gives opportunities for competitive play and social integrations, it also improves life-skills including self-confidence, independence and social skills. An enhanced role for the captain also allows for the development of leadership skills.
The Lord's Taverners aim to enhance the lives of disadvantaged and disabled young people through sport and recreation. Its programmes create a wide range of opportunities to engage in sport and recreational activities in their communities.