#WomensCricketMonth: Littleborough Ladies
We're celebrating #WomensCricketMonth this September by profiling a series of clubs across Lancashire who are currently hosting women's and girls' cricket activity...next under our microscope, it's Littleborough Cricket Club
Littleborough Ladies at Littleborough Cricket Club
Current women's and girls' offering at your club: T20 Hardball senior women's, Softball senior women's team, Super 8s Hardball senior women's and Indoor softball A & B team senior women's.

Established women's and girls' set-up since: This is the club's fifth year playing and hosting women's cricket. It came about after a handful of junior girls and cricketers wives/mums wanted to give the game a try. With the great organisation of Prosecco (Softball) cricket and a plethora of clubs doing softball tournaments, more and more wanted to try. With nearly 20 girls coming to training every week, the club are now at the stage to be able to push to create a girls junior team.
Key people involved with women's and girls' cricket: 

John Brierley: Ladies Coach, has been improving players every week for two seasons


Mark Whiteley: Manager and Chairman for the Ladies Committee, ensures the main Club Committee have knowledge of what is going on in the teams and decision making 


Loraine White: Ladies Captain, promotes the club's ladies all year round


Kirsty Hollis: Secretary of the Ladies Committee, also the scorer who updates PlayCricket and keeps players informed on their stats 


Becky Schofield: Club Welfare Officer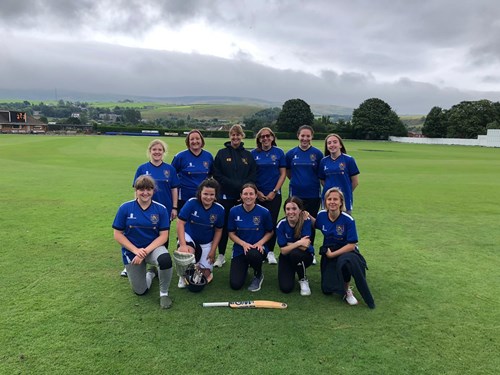 Goals for next season: With the girls commitment and excitement for the game, the club has already arranged to host female winter nets, they also aim to create a junior side(s) and want to continue to improve by playing more games.
Vision for their women's and girls' section in five years time: In five years time, the club hopes to have representation at all junior levels, to be attracting female All Stars and Dynamos, seeing on-going improvements to be able to compete at the highest league cricket level while also appealing for social cricket such as Softball.
How to get in touch and give cricket a go: Contact the club's social media platforms:
Facebook - Littleborough Cricket club 1839
Instagram - Littleboroughcc
Twitter - @LCC1839
or Mark Whiteley at Admin@littleboroughcc.co.uk