Lancashire Cricket celebrates Ramadan with ground-breaking Iftar at Emirates Old Trafford
The Lancashire Cricket Foundation, Young Interfaith and Islamic Relief combined last month to collaboratively deliver the first ever Iftar at Emirates Old Trafford and welcome over 200 guests through the doors of the iconic venue.
Held in the Members' Suite on Monday 27 March, guests heard a number of speeches about the significance of the event and Imam Abid Khan of Cheadle Muslim Association led the evening prayer.
The evening included a traditional Iftar, where Muslim and non-Muslim guests were able to share an evening meal directly after sunset and to break the days fast together.
Guests were then treated to a panel discussion chaired by Mohammed Ullah, Muslim Chaplain at the University of Manchester. The panel featured Mark Chilton (Director of Cricket Performance), Saqib Mahmood, Tayyab Akhlaq (Lancashire Cricket Foundation Board member) and Jen Barden (Cricket Development Manager) and discussed the power of cricket in bringing communities together.
Among the 200 guests were a number of high-profile dignitaries, including Diane Hawkins (Lord Lieutenant of Greater Manchester), Andy Burnham (Mayor of Greater Manchester), Councillor Bev Craig (Leader of Manchester City Council), Colonel Darren Doherty (Army Commander of the North West), and Mrs Figen Murray OBE, whose son Martyn, was killed in the Manchester Arena Bombing.
Wakkas Khan, Young Interfaith Founder, said: "It was a truly ground-breaking evening where we have been able to bring together inspirational young people alongside a constellation of civic and faith leaders, combining with sporting icons, to curate a unique Iftar experience. The evening has shown that when we use faith and sport as a cultural bridge, amazing things can be achieved."
Lancashire Cricket Foundation's Non-Executive Director, Tayyab Akhlaq added: "The event was an historic moment and one that I was delighted to be part of. Not just for the Muslim community but also for Lancashire Cricket and the wider region. Thoughts, prayers and moments of inspiration were shared from many perspectives before the breaking of the fast. I hope this is a moment that many recognise Emirates Old Trafford as 'their' home ground."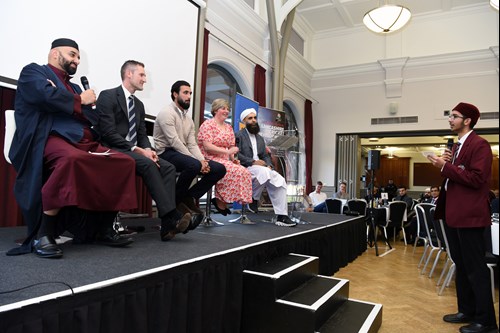 Lancashire and England bowler Saqib Mahmood also commented: "To attend the Iftar was a humbling experience for me. For the club to do this for the local community, it raises awareness and shows that this is possible within the club and this environment.
"It also offers education for others. I had George Balderson sitting next to me, and it was a big education for him. He didn't know a great deal about it. That opened my eyes a bit.
"I always find that when this month comes around, there's so much togetherness as Muslims and to be able to share an event like this at my home ground of Emirates Old Trafford was really special."