The Lancashire Cricket Foundation wins at the This is Manchester Awards 2023.
We are delighted to announce that the Lancashire Cricket Foundation won the Organisation Making a Difference Award at the This is Manchester Awards 2023.
This award acknowledges organisations that have significantly improved the wellbeing of others, and communities, socially, culturally & economically and was awarded for the Foundation's work across Greater Manchester over the last 12 months.
The Lancashire Cricket Foundation has been successfully delivering a wide range of cricket and community based programmes for a number of years, but it is our work in support of more disadvantaged communities that has grown significantly. Whether this is through our Chance to Shine projects in schools and on the street, through support for elderly members of the community, or most recently, through a much more enhanced programme of initiatives supporting those who are harder to reach in our inner city boroughs, our programmes are going strongly. 
We have seen a huge rise in participation in the game of cricket across the county – in our schools, clubs, and communities – with 92,721 participants engaged across the year. This figure represents a single-year participation record, with more children and young people, women and girls, disabled people, and older members of the community taking part in a wide range of activities delivered by Foundation staff.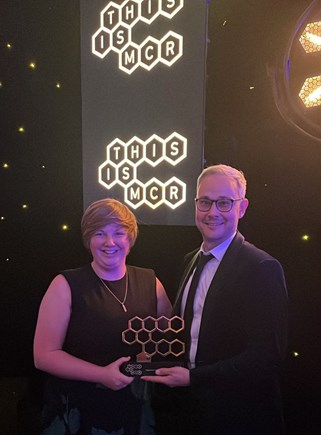 John Murphy, Executive Director at Lancashire Cricket Foundation said: "It is truly a remarkable achievement that reflects the dedication, hard work, and passion that our team bring to our programs and activities every day. Their commitment to making a positive impact on our communities is what sets us apart, and I am immensely proud to be a part of this team.
"Winning this award is not just a recognition of our efforts but also a testament to the positive change we are creating in the lives of those we serve".
"Across all our themes and work, we strive to provide an offer that is open and accessible to all. We target unreached groups and diverse communities, making sure there is equality of opportunity for everyone to enjoy, learn and take part".
Taking place at Emirates Old Trafford and attended by over 500 guests, the This is Manchester Awards 2023, recognise the rising stars and those who champion the night-time economy, entertainment, arts and culture, technology, live events, charity and fashion.