Lancashire Cricket Foundation and Project Front Foot: Breaking New Boundaries in Germany
Charities team up for a fifth year
For a fifth successive year the Lancashire Cricket Foundation is joining up with the cricket and education charity Project Front Foot to help them to provide kit and equipment to those in need.
Founded in February 2009, a Registered UK Charity since October 2011, Project Front Foot has provided kit, coaching and age group matches for children from Mumbai's Dharavi slum during the November to May season. During that time, the Lancashire Cricket Foundation has been proud to supply both cash and kit donations and this positive relationship culminated in the Lancashire Cricket Under 13's visiting both Dharavi and its Cricket Academy as part of their pre-season tour this year.
Following a strategic change of direction the charity is now working to distribute cricket kit and equipment to support refuges displaced into Europe from Afghanistan. The Lancashire Cricket Foundation, as a key partner, has committed to continuing to provide some of the kit and equipment necessary in order to help Project Front Foot make a real difference to lives of disadvantaged people through cricket.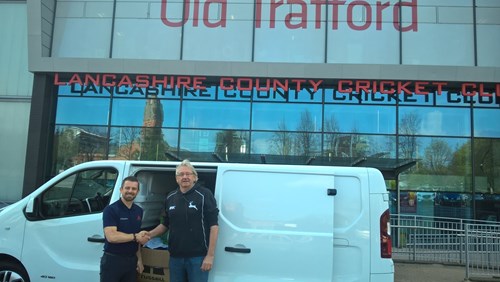 Sandy Mitchell, Head of Community Growth for the Lancashire Cricket Foundation said: "We are delighted to be supporting Project Front Foot again this year as they change direction, providing some of the kit and equipment they need to make a difference to the lives of disadvantaged people in Europe through cricket. Our work in the North West is already well established and by partnering up with Project Front Foot we are able to continue to have an impact both home and abroad."
Vic Mills, Founder of Project Front Foot added: "The partnership with the Lancashire Cricket Foundation has been fundamental to the success and development of our work in Mumbai. We are delighted that they are committed to continuing this relationship to help us provide kit and equipment to those refugees displaced from Afghanistan. It is our hope that we will be able to make the same impact we have been able to make in India, supporting those that have little in the way of resources, sporting or otherwise".
To follow the progress of the project, please visit the Project Front Foot facebook page: facebook.com/projectfrontfoot
To find out more about the work of Project Front Foot, please contact us via the website: projectfrontfoot.org