Round three of Wicketz 'Unity of the Roses' is a huge success
50 children from Lancashire and Yorkshire unite in Hull through Wicketz
50 children from Manchester, Leeds, Bradford and Hull made their way to Hull University this week for round three of 'Unity of the Roses'.
Unity of the Roses brings together Wicketz participants from Manchester, Leeds, Bradford and Hull. Wicketz is delivered across Lancashire by the Lancashire Cricket Foundation and in Yorkshire by the Yorkshire Cricket Foundation and is a nationally funded project by the Lord's Taverners.
The two previous Unity of the Roses events each had their own focus. The previous event, held at Emirates Old Trafford in February, looked at 'Connections' with reference to mental health and how it often relies on positive connections.
This latest action-packed day was focused on 'Aspirations' of the participants, with workshops being themed around this and how to raise aspirations of the children and inspire the next generation.
The core purpose of the latest event was to show the children that they can do anything they put their mind to. Wicketz hubs operate in the most deprived areas, for example, the Manchester Hub falls within the top 10% most deprived areas nationally. According to statistics, teenagers in this area are less likely to stay in school and more likely to become NEET (Not in Education, Employment or Training).
Each child also got a free lunch on campus, before benefiting from a cricket skills and drills session, led by qualified coaches and supported by four young leaders from the Lancashire Wicketz programme.
All children also took part in a campus tour, highlighting the different elements of university life, aligning with the theme of Aspirations.
Wicketz participant Mohammed (age 14) said: "When I'm old enough, I would like to go to university. I would like to go because I can start a career such as a medical doctor, chef or artist. When I'm older I would like a job with a good salary, so I can buy a Nissan Micra. I would like to do other things such as help the community, so it will help other people."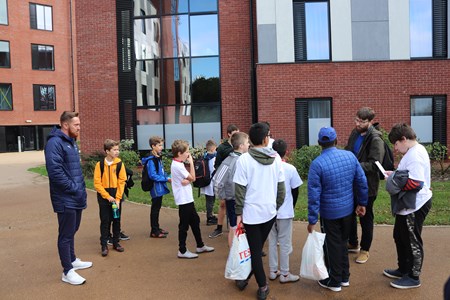 Howard Shore, Senior Cricket Project Activator for Wicketz in Lancashire, said: "I think the campus tour was a really key part of our Aspirations theme. It's great to show the children that they certainly do have the option to go to university one day. Most have not visited a university before, so it was great to show them the student halls and explain how they could meet people from all over the world. I think it's really broadened their horizons."
In the tournament, teams battled it out for the inaugural Emirates Old Trafford and Emerald Headingley trophy, with team Bradford (aged 12-14) winning the Emerald Headingly trophy and team Hull (aged 8-11) taking home the Emirates Old Trafford Trophy.
The day finished on a high as all the children reflected on the fun they had and after being encouraged to write a 'letter to myself' to remind them of the day and what they had taken from it.
13-year-old Omair, wrote: "When I am older, I have aspirations to go to university. I would like to go as it would make me independent and I would meet new people. I would like a job in cricket, as its fun and interesting to do. I need to work hard. I will do other things as well, like learn to cook and clean."
Wicketz is a free community cricket programme that gives young people, aged 8-19, opportunities to take part in cricket and enjoy physical activity regardless of background, circumstances or ability. The programme is about more than getting young people playing cricket, it provides wider opportunities to develop social and personal skills, such as confidence, respect, teamwork and leadership, as well as providing health awareness and life skills workshops.
To find out more about the Wicketz programme in Lancashire, please click here.