Wicketz Champions Trophy
Inaugural event held at Edgbaston 
On Thursday 3 January, the Lancashire Cricket Foundation took a group of 14 young people from the Wicketz Manchester Hub down to Edgbaston in Birmingham for the inaugural Wicketz Champions Trophy competition.
School holidays can often lead to teenage boredom, with some young people making poor choices, succumbing to peer pressure and becoming involved in anti-social behaviour.  For others, tensions at home can drive them out onto the street.  Families of others from disadvantaged backgrounds can struggle to find the money to provide the healthy, warm meals their children are used to when at school.
In a bid to help address these issues, three organisations came together through the Lord's Taverners Wicketz programme to provide a packed day of challenging, positive activity. 
Children from the Manchester Hub met young people from Birmingham, Luton and Redditch, played in a cricket competition, learnt about knife crime issues and had a look inside the world famous stadium where West Indian legend Brian Lara scored a world record 501 runs in 1994.
The Manchester 'A' team played two very tough games against Luton A and Birmingham A, narrowly losing each time.  They then faced our Manchester 'B' team, who had won one and lost one of their opening games.  The B team put in a superb performance with the ball to defeat the A team before going on to beat Birmingham to finish third.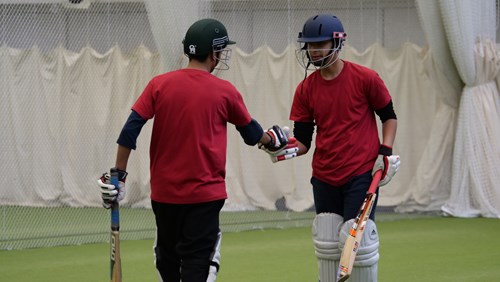 There were some brilliant performances during the day, but none better than Azlan Ullah's superb batting performance in the third and fourth place play-off, which was recognised with him receiving a brand new bat at the end. 
A workshop highlighting issues and dangers around knife crime was delivered by The Children's Society, designed to make the young people more aware of the consequences if they were to carry a knife and gave them the opportunity to talk through some scenarios.
Wicketz is providing a positive outlet for those with a cricketing passion with weekly activity where they live - areas with limited opportunities - to socialise and be young people. Many had never played cricket before joining the activities and, for those who have played before, there wasn't a local cricket club to join. 
The children selected to take part in this event have been regular attendees over the last two years. The day brought young people from different parts of the county and different backgrounds together through cricket and was the culmination and celebration of the Wicketz programme and how it's developing a sense of togetherness and friendship in a supportive environment, for what are usually marginalised young people.