Unfortunately the 2 players were unable to attend the recent awards evening at Emirates Old Trafford alongside the 1st Team and Thunder squads.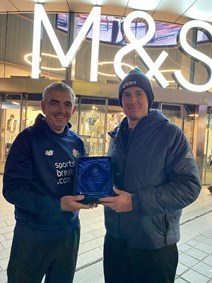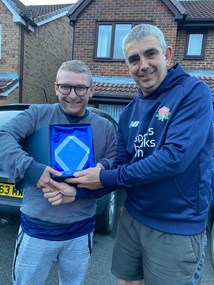 Disability Player of the Year 2023 – James Dixon
"Sir Jimmy" as he is known by his team mates at Lancashire Disability plays club Cricket for Sefton Park CC in the Liverpool Comp, Jimmy has been with the D40 squad now for the last 4yrs since a merger between the Deaf Squad and the Learning and Physical Disability Squads.
He has represented both the Tridents and Black Cats in the DPL competitions
Jimmy is a Deaf player and has been selected for England in the  World Cup in December over in Dubai.
Jimmy scored 207 runs and took 17 wickets for the D40 squad this season.
Disability Most Improved Player of the Year 2023 – Alex Brooks
Alex Plays for the Super 9s Squad in the Regional Competition, having only started playing cricket 3 years ago.
Alex thought he'd try the game at his local Super 1s Hub centre and found he really enjoyed the sport and team astmosphere.
He is a right arm leg spin bowler who is keen to listen and work on improving his skills before looking to progress into playing Hard Ball cricket in the future.
As a result of all his Hard work, Alex was invited in pre-season to attend a hard ball training session