Saqib Mahmood inspires Wicketz Festival participants
Unity of the Roses Festival hits mental health for six
Matches between Lancashire and Yorkshire have thrown up plenty of twists and turns on the cricket field, but there was a Roses match up with a difference this week where youngsters from the Lord's Taverners Wicketz projects in Manchester and Leeds/Bradford came together for a day of competition and life skills workshops.

It was the second 'Unity of the Roses Festival', where 70 children aged 8-12 from both sides of the Pennines united to celebrate all that is good about playing cricket together.

The young participants also received an inspiring talk from Lancashire and England Lions fast bowler, Saqib Mahmood. After finishing training Mahmood took time to speak to the young people about making it as a professional cricketer and dedicating his life to remaining in top condition. 

WATCH: Find out what Saqib Mahmood had to saying after meeting the Wicketz participants
The Wicketz programme, run in Manchester by the Lord's Taverners and the Lancashire Cricket Foundation, gives opportunities to young people to take part in cricket and enjoy physical activity regardless of background, circumstances or ability.
The programme, which runs in 19 locations across the UK, is about more than getting young people playing cricket, it provides wider opportunities to develop social and personal skills such as confidence, respect, teamwork and leadership as well as health awareness and life skills workshops.
After being given a tour of Emirates Old Trafford and meeting Mahmood, the youngsters from both Wicketz projects took part in a workshop on the subject of mental health and enjoyed their own Unity of the Roses clash on the cricket field on Monday (18 February).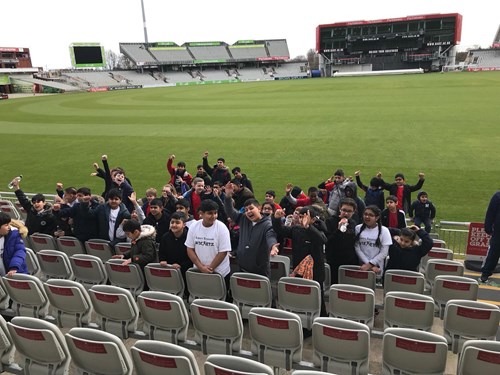 An important part of the Wicketz programme is to 'develop participant's physical and mental well-being' through personal and social experiences.
The theatre company 'Brave Words' who 'create exciting new work that harnesses silliness and playfulness to explore the difficult conversations of life' delivered a workshop alongside the cricket. The workshop explored the theme of 'connections' with reference to mental health and how it often relies on positive connections.
The combination of cricket and theatre reached a crescendo when presentations to celebrate and showcase the day brought the event to a close. In groups the players dropped their cricket bats to perform mini theatre ensembles, led on and curated by the participants.
"Throughout the country, Wicketz is breaking down barriers and empowering young people to fulfil their potential and build crucial life skills," explained Wicketz National Project Manager Dan Wilson.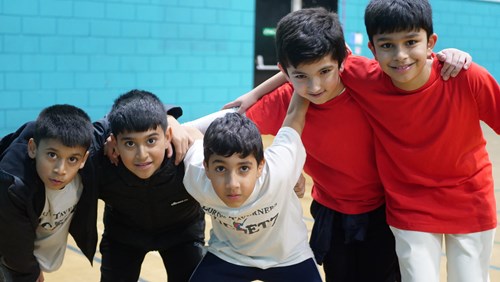 "Knife crime, confronting extremism, unemployment and healthy eating are just some of the local issues that our programmes tackle across the country while also developing team work, confidence, leadership and independence – all using cricket as the tool to engage young people.
"There is no better way to celebrate and demonstrate our ongoing work than bringing together two communities as part of the Unity of the Roses. Sport removes barriers and allows young people who would never usually integrate work towards a shared goal."
There are 100 kids engaging with the Wicketz project each week in Manchester across three hubs - Gorton, Little Hulton and Old Trafford. The young people at Old Trafford Sports Barn have all been targeted through local schools and youth organisations, making it a very diverse group of participants, while Cedar Mount Academy is in the area of Gorton, where there are few activities for young people.
Wicketz sessions take place every week all year round, and if you would like more information about the project please contact Howard Shore on HShore@lancashirecricket.co.uk.